Earlier this year, a new traffic island was created at Lakdikapul, which became a great solution to streamline traffic at what used to be very haphazard and confusing turning. However, what came on top of the island– in dissonance to the alleviation of traffic logjam– is nightmare-inducing to say the least. Not just for an architect or designer, or a connoisseur of good design, or someone with impeccable taste, or someone who is well-traveled, but for the everyman, as I heard many residents of the city complaining about and questioning the (lapse in) judgment behind it. There iss much to unpack behind this seemingly reckless urban gesture.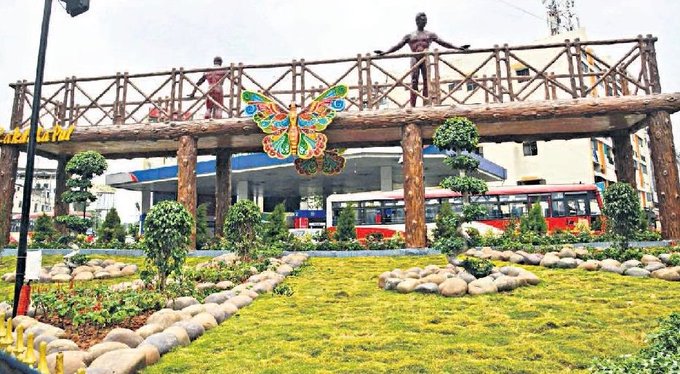 1 Lakdikapul means "wooden bridge" in Urdu. A bridge is something that connects two things. This structure doesn't connect anything, it's just a raised platform with no beginning or end, no entry or exit.
2 This platform is not even made of wood, it's a steel substructure clad most likely in carbon fiber which is molded to look like wood, with repetitive grains and knots. However, when building a wooden bridge, wood is cut and sanded so that the burls are removed and knots smoothed. So a real wooden bridge would not have any protuberances or 3D bumps on its surface, it would have grains that are smooth and in varying color as a pattern over the surface, with occasional 2D knots. These kinds of bulbous knots are only seen on the trunk of a tree in the forest, not a manmade structure in timber.
3 A tree with bumps, knots and textures is rough and not shiny, but this structure is polished/varnished. How can something be polished and yet grainy? How can something be natural yet manmade? And the substructure of this is steel I-sections. So it's not wooden in any way.
4 There are statues of two wooden men standing atop this platform. Who are they? What do they represent? How did they get up there or how will they get off, because the platform has no steps or access. A designer would certainly not leave such issues unaddressed.
5 There are two giant colorful butterflies on either side of structure. What do these represent? As far as I know, Hyderabad is not home to such exotic butterflies. These are more than five times as big as the men on the platform. Why?
This pul, a visual representation of a wooden bridge, is not an exercise in design but in skeuomorphism (a term I borrow from UX/UI design in which virtual objects mimic their real-world counterparts), or as American architects Denise Scott Brown and Robert Venturi would've called it, it's a duck, a building that itself expresses its function—often boldly.
"The duck is the special building that is a symbol,"
~Venturi/Scott Brown
(We have another "duck" in Hyderabad, which is a fish. But that's a topic of another stream.)
For example, Japanese architect Kengo Kuma's many experiments with wooden joinery: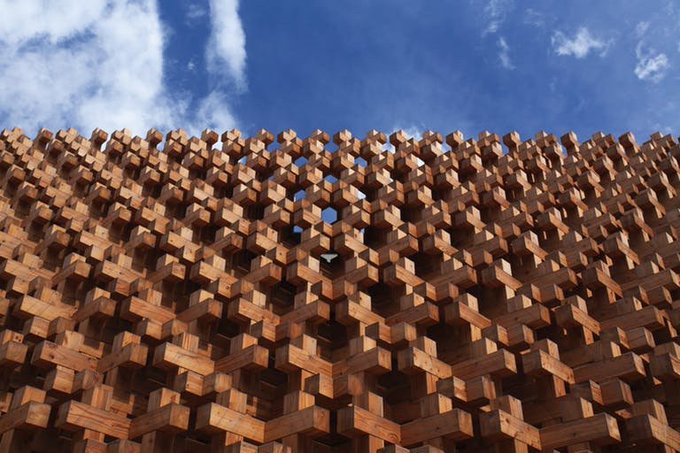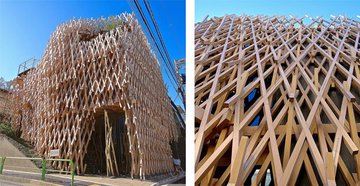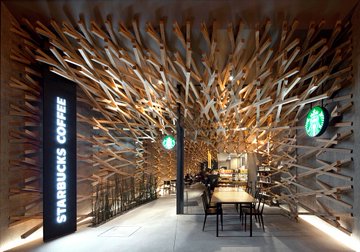 Architect Shigeru Ban's woven wooden surfaces:
Indian architect Sameep Padora's layered wooden roofs:
This pathway by French architect Robert Mallet-Stevens (look at that hardware!):
Another gem by Kengo Kuma for the London Festival of Architecture!
The intricacy of detail in Italian architect Carlo Scarpa's designs:
The experiential Boomerang Bench by designer Anna Szonyi for Dubai Design Week 2017:
Steampunk by SomeemHahm, Igor Pantic and Fologram, designed for the Tallinn Architecture Biennale, using steam-bent wooden strips:
Frequent student work from the University of Stuttgart, ETH Zurich and the AA School of Architecture using driftwood, engineered wood, pallets, and digital fabrication:
And I have nothing against knots, so long as they're real:
Knots are beautiful, as you can see in this geode carved by the Oddball Gallery's artist and woodturner, Daniel Keith who says,
My undergrad students from the Fractals Workshop who had never worked with this material before have studied its properties and pushed its capabilities. In a 3-day workshop, they derived complex geometries based on the growth patterns of natural systems.
In these projects, and so many more, the lightness, the materiality, the raw and exposed texture of wood, its bendability and joinery, its nature and performance have been explored and harnessed to their fullest potential, or at the very least, attempted.
It's not easy, and it's not always successful, as with this design of a helicoidal form we attempted for an urban installation for Hyderabad Design Week 2019, the WeaveX 2.1: HeliX:
Due to intricacies in the bending of the material, it was difficult to predict and control the curvature with accuracy, but what resulted was a serendipitous failure in formfinding; the material taking over and resulting in a completely different form than the one we had predicted!
That's what experiments are about: trial and error that leads to innovation.
It's more about the process and less about the product.
Lakdikapul the area in Hyderabad derives its name from the wooden bridge that used to exist here. The actual bridge has been long-erased from memory, rebuilt in concrete decades ago and many times over, but the name remains, and lends itself to a major urban precinct. A study of the history of the original bridge, what it formed a connection between 
its architects and engineers, its material, structure and construction techniques is a crucial stage in the design process of an installation that symbolizes and pays homage to the bridge. This is how architects and designers work. We study history, the context, function, symbolism, material, structure, technique, impact, culture, people and environment during the design process. Design is not merely gestural or aesthetic, but a gestalt of all these factors. Unfortunately, the current structure that has been installed at Lakdikapul does not embody any of these important considerations, and I don't believe it was the result of a design process. To me, it is wooden gesture, symbolic of a lack of imagination and Hyderabad's neglect of its design community; a half-hearted swing and a major miss.
When Hyderabad can become a leader in the tech industry and is rapidly being recognized internationally for its advanced IT sector, what prevents it from becoming an incubator for young designers and architects? What prevents the selection of designs for the city based on design merit and evaluation by renowned architects and designers? Impactful iconic public and urban installations in a metropolitan city of an international stature must represent the city's lofty ambitions and its connection to a rich heritage and history. Hyderabad was never a village or a small town, it was founded as a city, and has always been hi-tech (well before Hitec City/Cyberabad) and cosmopolitan in nature. After tech and startup events, design festivals such as the recently concluded 
Hyderabad Design Week
 will certainly raise awareness about the significance of design in Hyderabad. Being selected to host the 
31st World Design Assembly
 is an honor that recognizes the place of Hyderabad as one of emerging design capitals and the potential of its design and architecture community.
Architecture is a collaborative process, it cannot be practiced from disconnected silos and by turning our backs on history, context, culture, economics, politics, material, technology and people.